Looking for a way to start the day off with a healthy breakfast? This loaf of Blueberry Banana Bread is made with yogurt, fresh fruit, and oats. It's a delicious way to start any day.
If you like this bread, you will enjoy these Blueberry Coconut Scones for breakfast too.
*Love these recipes? Be sure to sign up for the BruCrew email to have these recipes delivered to your inbox each time a new recipe is shared.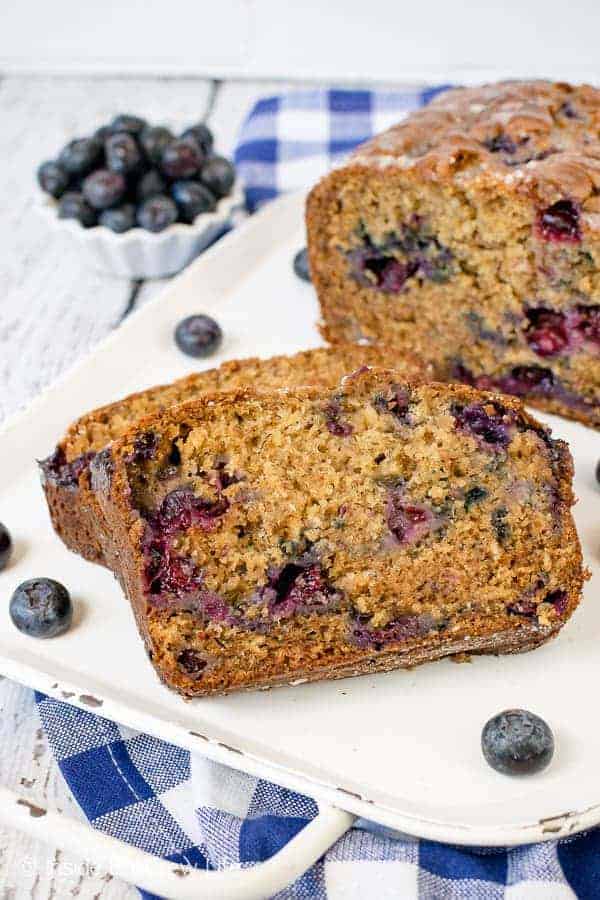 CLICK HERE TO PIN THIS RECIPE FOR LATER!
After eating candy non-stop this past weekend, I am ready for something a little bit healthier to eat. This easy banana bread recipe with blueberries, oats, and yogurt sounded like a great way to detox this week. Although, if you have candy to get rid of, this Java Twix Banana Bread is delicious option too. Just saying.
I tend to buy bananas all the time. It's a great snack to eat when you are short on time. Although, I have to admit I'm a green banana eater. Once they actually ripen, I won't get near them. Unless it's to bake Banana Nut Cinnamon Rolls or Banana Coconut Muffins.
Bananas are probably the most used ingredient in our kitchen. Mainly because we always have them on hand. The bananas we don't eat get frozen for Peanut Butter Banana Ice Cream. Gotta love a bowl of creamy banana ice cream loaded with peanut butter swirls, right?